This interactive workshop is an opportunity for school leadership teams to step away from their operational and tactical responsibilities and share an immersive learning experience about the future of work and readiness.  It is designed to challenge assumptions and serve as a catalyst throughout the year to help accelerate strategic thinking about their school's future opportunities.
JANUARY 25, 5:00PM – 8:00PM
WELCOME AND KICKOFF – FROM CAREER TO CREATIVE LIFE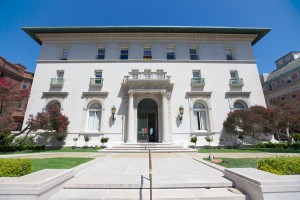 Following a reception at the Flood Mansion, we will explore the arc of the creative life with Marc Zegans, a creative advisor in fostering innovation and creativity in professional practices, whose clients have included the Social Innovation Forum, the World Bank, and the Ford, Rockefeller, Ewing Marion Kauffman and James Irvine Foundations. Marc will share his adaptive career framework that guides key career – life choices and enables rich human development and well-being. As a group we will make connections to the K12 experience.
JANUARY 26, 8:00AM – 4:15PM
SCENARIOS OF WORK AND READINESS 2040
Today's kindergarten students will be in the early stages of their careers by 2040.  Will they be prepared for the journey? The workshop will start with an exploration of four possible scenarios of work and their implications for a new approach to readiness.
Finding new meaning: Massive technological efficiencies and job displacement re-frame the role of paid work and enable new social support structures that leverage untapped human potential and ingenuity to fuel a human- centered economy;
Working the platform: Emotionally resilient quantified workers develop competitive strategies to piece together extremely fragmented tasks that are managed through diverse professional and low skilled dispatching platforms;
Checking for upgrades: Predictive workforce modeling and targeted individual feedback enable timely skill development for bursts of full time, project-based work to create multi-faceted and fluid mosaic careers;
Partnering for mobility: Professional nomads constantly seek to improve their performance by upgrading their skills, digital tools, and social capital to succeed as independent, contingent workers on collaborative project teams.
Collaborative sense-making activities in small and large groups will help participants draw out insights that connect new forms of work and notions of readiness to opportunities in education. Throughout the day school teams will use graphic templates to capture insights and brainstorm strategic possibilities for their own organization, leaving with a set of opportunities and ideas to spark generative thinking for their school.
COST and DELIVERABLES

The cost is $1,250 per person for teams of 2-4 people. In addition to a creative, generative, and well facilitated workshop experience, teams will receive printed copies of Redefining Readiness from the Inside Out, power point slides, digital scans of visual murals and templates created during sessions (in pdf and jpeg). Each school will have templates to capture and organize insights and strategic opportunities relevant to their organization to bring home to share with colleagues. Additionally, each school will have the opportunity for a facilitated, debrief discussion either via phone or in-person.
WORKSHOP TEAM
The team behind this workshop has collaborated together on various strategic thinking and foresight projects in education for over a decade and have a breadth of skills necessary to ensure a dynamic and collaborative experience with actionable outcomes.
Andrea Saveri
At Saveri Consulting, Andrea makes the future actionable for clients through research-based foresight, highly creative engagement experiences, visual maps, and forecast artifacts. With over 20 years experience in diverse organizational settings, Andrea taps her broad network of experts and practitioners to partners with clients to create clear strategic pathways to transformation and resilience in this complex world. Current work includes collaborating with the KnowledgeWorks Foundation to create strategic foresight tools to education decision makers, as well as partnering with the Long Now Foundation to bring long term thinking to K12 educators and classrooms. https://andreasaveri.com/
Katherine Prince
One of the United States' foremost educational futurists, Katherine Prince leads KnowledgeWorks' exploration of the future of learning. As Senior Director, Strategic Foresight, she speaks and writes about the trends shaping education over the next decade and helps education stakeholders strategize about how to become active agents of change in shaping the future. http://www.knowledgeworks.org/about/our-team/katherine-prince
Jason Swanson
As the Director of Foresight, Jason explores the future of learning, helping stakeholders translate future insights into forward thinking visions for transforming education. Jason is a graduate of the University of Houston's Master of Foresight program and a fellow in the Royal Society for the encouragement of the Arts, Manufactures and Commerce (the RSA) and former Emerging Fellow for the Association of Professional Futurists (APF). http://www.knowledgeworks.org/about/our-team/jason-swanson
Leslie Salmon-Zhu
As the Director of Conference Arts & Insights, Leslie creates highly engaging visual murals and experiences at workshops, conferences, and other large scale events33 . Her graphic recording captures the essence of the collaborative work through artistic and narrative murals grown in real time on the walls surrounding the participants. These murals envelop attendees in their own ideas, discussions, panel presentations, and insights. Additionally, with workshop designers, Leslie designs graphic templates that help guide participants through meaningful thinking processes that lead to actionable outcomes. https://www.linkedin.com/in/leslie-salmon-zhu-0ba734a/
WORKSHOP LOCATION
All workshop activities will be held at the Convent & Stuart Hall Schools of the Sacred Heart, San Francisco, CA. Detailed logistics are forthcoming.