Redefining Readiness from the Inside Out:
Education in an Age of Digital Automation and Augmentation
A Strategic Foresight Workshop for Independent School Leaders
January 25-26, 2018
Convent & Stuart Hall Schools of the Sacred Heart, San Francisco, CA
Accelerate your school's strategic thinking about the future of work, readiness, and the implications for independent schools
Saveri Consulting and the Convent and Stuart Hall Schools of the Sacred Heart in San Francisco are convening a group of forward thinking independent school leaders on January 25-26, 2018 to explore the intersection of digital automation, work, and career-life readiness.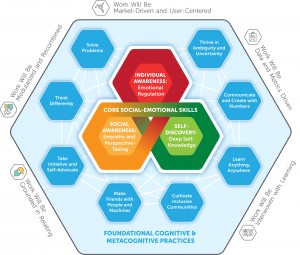 The workshop is designed for heads of school, senior administration, trustees, and pioneering faculty who are interested in challenging assumptions and accelerating bold, generative thinking about education and their school's future.  The cost is $1,250 per participant for teams of 2-4 people.
Learn how digital automation and a new readiness framework will shape your school's strategy
Already we see estimates for significant job displacement in traditional blue collar industries such as trucking and warehousing, but also in professional and highly skilled fields such as medical diagnostics, journalism, and even software development. A 2013 Oxford University study reports that 47% of jobs are at risk of being automated by 2025.
The workshop agenda will help school leaders understand more deeply the shifts in work, readiness, and implications for education. As we explore four scenarios of future work, school teams will have dedicated time to explore implications for their own school's strategic path, leaving with a set of priority issues that spark bold ideas, re-align strategic direction, and clarify mission and positioning.  Key questions addressed include:
– What are the foundations for success in a highly automated and augmented employment landscape and   how might we re-conceptualize "readiness" to become more relevant?
– How might different rates of technological displacement intersect with different societal responses to bring different success factors more or less to the fore?
– How might today's independent school educational models and structures shift to address new models of work and new concepts of readiness?
– What are possible strategies for independent schools to set up their graduates for success and respond to the changing landscape of digitally automated and augmented work?
Registration
Attendance is by invitation and limited to 40 participants. To register, please email andrea@andreasaveri.com with the name of your school and participants attending, including their organizational role or position.
Workshop Team
The workshop team includes: Andrea Saveri, education futurist and consultant; KnowledgeWorks Foundation's senior strategic foresight directors Katherine Prince and Jason Swanson; and leading visual, graphic recorder Leslie Salmon-Zhu.  The team has collaborated on various strategic thinking and foresight projects in education for over a decade and have a breadth of skills necessary to ensure a dynamic and collaborative experience with actionable outcomes.